We think it's likely the 2024 property market forecasts will end with a similar number of completions (1m), along with more realisation of the market with price drops to continue to around another 3% loss. It's important to remember that the market was incredible inflated during the pandemic boom, where people were borrowing at such low rates they were offering well over the odds, therefore, as per my report at the start of 2023, its realistic it must correct itself still.
Why haven't house prices crashed?
The economy continues to grow, slowly, with unemployment remaining low and incomes are increasing. Most lenders are allowing people to refinance, stopping forced sales.

The biggest element is the fact that since 2015 banks stressed peoples mortgage borrowing at 7+%, meaning that the current rates are indeed affordable (even if it doesn't feel like it). This stopped households taking on unsustainable levels of debt should rates increase. This has been one of the main reasons for less price falls as there are not so many stressed sellers.
Although buyers were able to borrow at just 2% for their mortgages, they still had to prove to their bank they could afford a 7+% rate. Meaning most can afford the increased rates. As we write banks are now stress testing between 8-9%, again protecting customers borrowing at 5% rate encase it increases. This of course does affect buying power, however, protects against big price drops.
Reduction in house price growth
The result of increased mortgage rates over the summer has been a rapid slowdown in price growth from +9.2% a year ago to -1.1% as of the end of October 2023. Other indices, based on mortgage lending, have registered larger annual falls, while the ONS' House Price Index was at +0.2% in July.
Naturally with the higher average prices, Southern England has been at the forefront of price reductions. Home track's house price index shows that 4 in 5 housing markets are registering annual price falls, up from less than 1 in 20 just six months ago. Price falls remain modest, with very low single digit changes, with no housing markets over 5%.

The largest annual price falls are recorded in Colchester where prices are 3.5% lower over the year, followed by Canterbury, Luton and Brighton – all London commuter areas. Whereas Halifax prices are 3.6% up year-on-year and Motherwell in Scotland is 2.4% up YOY.
Biggest hit on housing transactions
The property market is on track for a 23% drop in completed transactions over 2023 to 1 million. Many movers are delaying movement in the hope mortgage rates drop.

Feedback from national portal surveys suggest that people are still eager to move, however, are more hesitant with the combination of 'cost of living crisis' and increased mortgage rates combing. This suggests only 15% lower demand in wanting to move.

We would expend a rebound in early next year lasting up-to spring with pent-up demand in the market. As writing the current completion pipeline of sales is lower than this time last year, most likely due to the general election upcoming, it is normal for a pause in activity in any market in the lead up to an election. Because of this it's likely to see a similar number of completions next year, irrelevant of the rebound in demand, a carry-out to this though, if mortgage rates dropped significantly below the 4% mark, then maybe we can get back to the 1.5 million region.
First time buyers & Cash buyers' supporting the market
First-time buyers (FTB) will be the largest buying group in 2023. Naturally the higher mortgage rates affected the amount of mortgage reliant buyers in the market. However the number of cash buyers has remained strong, supporting 30% of the overall sales.. Previously (5 year average) cash buyers accounted for 1 in 5 sales, however now they have risen to 1 in 3 over 2023.

Although first time buyers share of sales are down over the 5 year average, it's still holding up, mainly due to the high cost of renting. In most property markets throughout the UK, first time buyers would have cheaper mortgage repayments than rent even if the mortgage rates were at 8%.
People are still wanting to move
Zoopla carried out a consumer survey, showing people have the appetite to move home. The general feedback was that buyers were biding their time during 2023, hoping the outlook would become clearer, more specifically the mortgage rates.  Many talk about property prices also and not understanding if going up or down.

The risk of a price crash is becoming far less of a concern, pushing home buyers decisions to be more on the mortgage rates and cost of living crisis.
 It's likely cash buyers will remain a larger buying group during 2024, along wight FTBs with rent prices continuing to increase at a rapid pace. Mortgage rates increasing have impacted up-sizers more than most, as they tend to require larger mortgages. Buyers tend to be fixed on where they want to buy next when there are other areas that may meet their needs. To increase the number of completions in 2024 we need to see more up-sizers in the market.
Can housing affordability improve in 2024?
To support sales volumes the housing affordability needs to improve back to where it probably should have been (another 3% drop), however you can take a view on this both ways in terms of what part of the market it supports best. It's unlikely a double-digit price drop will happen (that was told by mainstream media at the start of 2023). Households want to feel more confident on what the economic outlook is. UK prices have fallen less than suggested during 2023 (even what I felt would happen), along with 5%+ mortgage rates, have naturally meant that the UK housing market remains expensive during 2023, however if the mortgage rates average around the 4% mark along with a slight decrease in property prices this would increase a significant amount of confidence in the market.
There is evidence to support an increase in income towards the second half of 2023 also, therefore if this continues it will also support a more affordable UK property market during 2024.

Price drop of 3% during 2024?
The long and short is house prices need to fall further, income increases, and mortgage rates need to fall further to reset the completion rates in the UK and support buyer demand.

We think based on extensive research mortgage rates will likely average out at 4.5% by the end of 2024 and then likely remain in the future. We think (unless the mortgage rates get to close 4% within the next three months) that the house prices will fall by an average of 3% over 2024. There is a 5 year high on properties for sale, meaning sellers will start to competitively price if serious about selling, keeping pressure on pricing and the average price.
Growth in household incomes speeding in 2024 would support affordability, however, would still leave the UK property market overvalued by the end of 2024 in comparison. If home buyers take longer mortgage terms this would offset the overvaluation though.
Affordability improves
Homeowners/buyers are adjusting to higher borrowing costs and realising that it can be affordable still, this has caused lower sales volumes though. This is far more positive than a big property price crash and supports better ability to rebound. Asset prices around the world are also adjusting to higher borrowing costs. There is an active debate in financial circles about the long-run outlook for borrowing costs, which sets the outlook for UK mortgage rates. We are unlikely to return to the years of very cheap borrowing, therefore must adjust to the new normal, however they do need to come down somewhat yet to support financial circles worldwide.

Mortgage rates of 5% remain low compared to historic standards, however, high compared to recent years. If we assume rates remain at a similar level, I see UK house price falls remain in low single digit drops over the next 1 – 2 years, which would be below the projected growth in household incomes. The result of this would be the house price-to-income ratio falling back to levels not seen for a decade. If this was to happen then It would set up the UK property market up for a rebound in activity as homebuyers become more confident to make big financial decisions. There are signs of re-bound during the first half of 2024 as people who were delaying in the hope of large mortgage rate drops/house price drops have realised large changes will not happen, therefore giving confidence to re-enter the market. If this happens on a larger scale this would support a stronger re-bound during 2024.
UK Property price index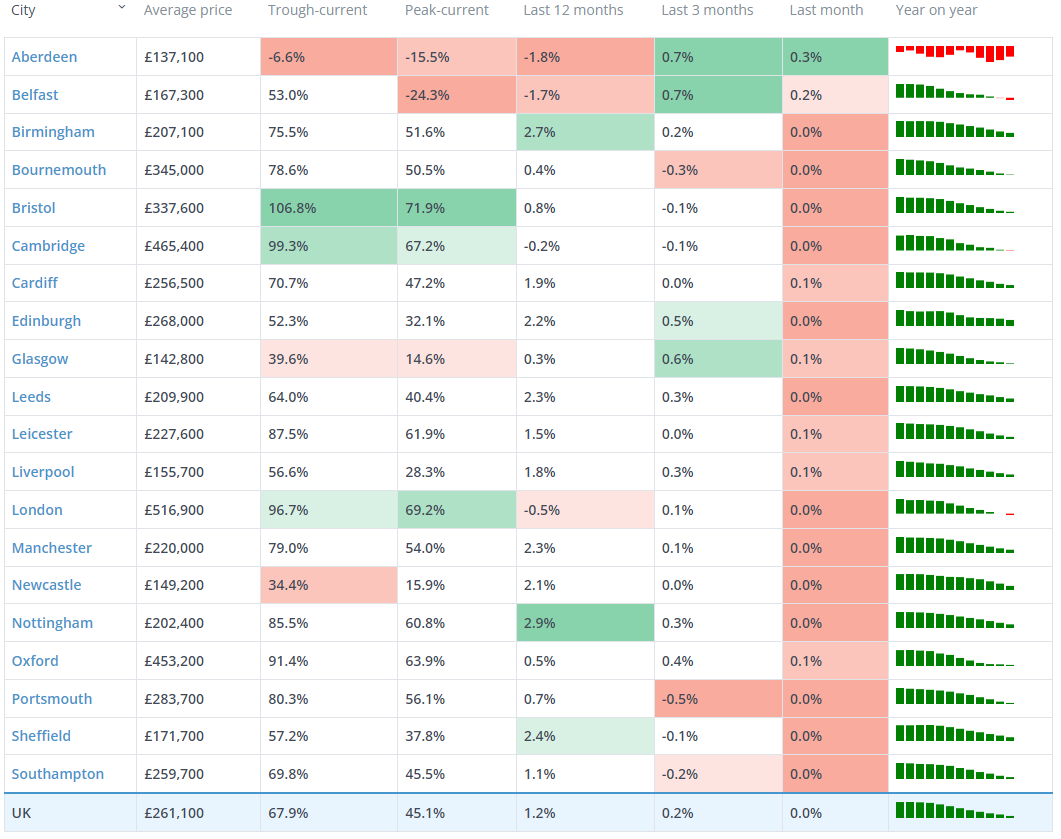 Isle Of wight Update
Majority of sales completed over the last year are detached homes
Average house price - £365,179.
Down 1.67% month-on-month
Up 4% on previous year and +16% on 2020 peak